Ingredients
2 – 3 lobster tail. (1 per person)
1 lb of raw dividend shrimp
2 tablespoon olive oil
1/2 tablespoon garlic, parsley seasoning
1 teaspoon sea salt
1 teaspoon cajun seasoning
1 teaspoon brown sugar
1 teaspoon finely chopped basil
1 sweet plantain, finely cut into small cube size like
Pre-cut zucchini noodles
Instructions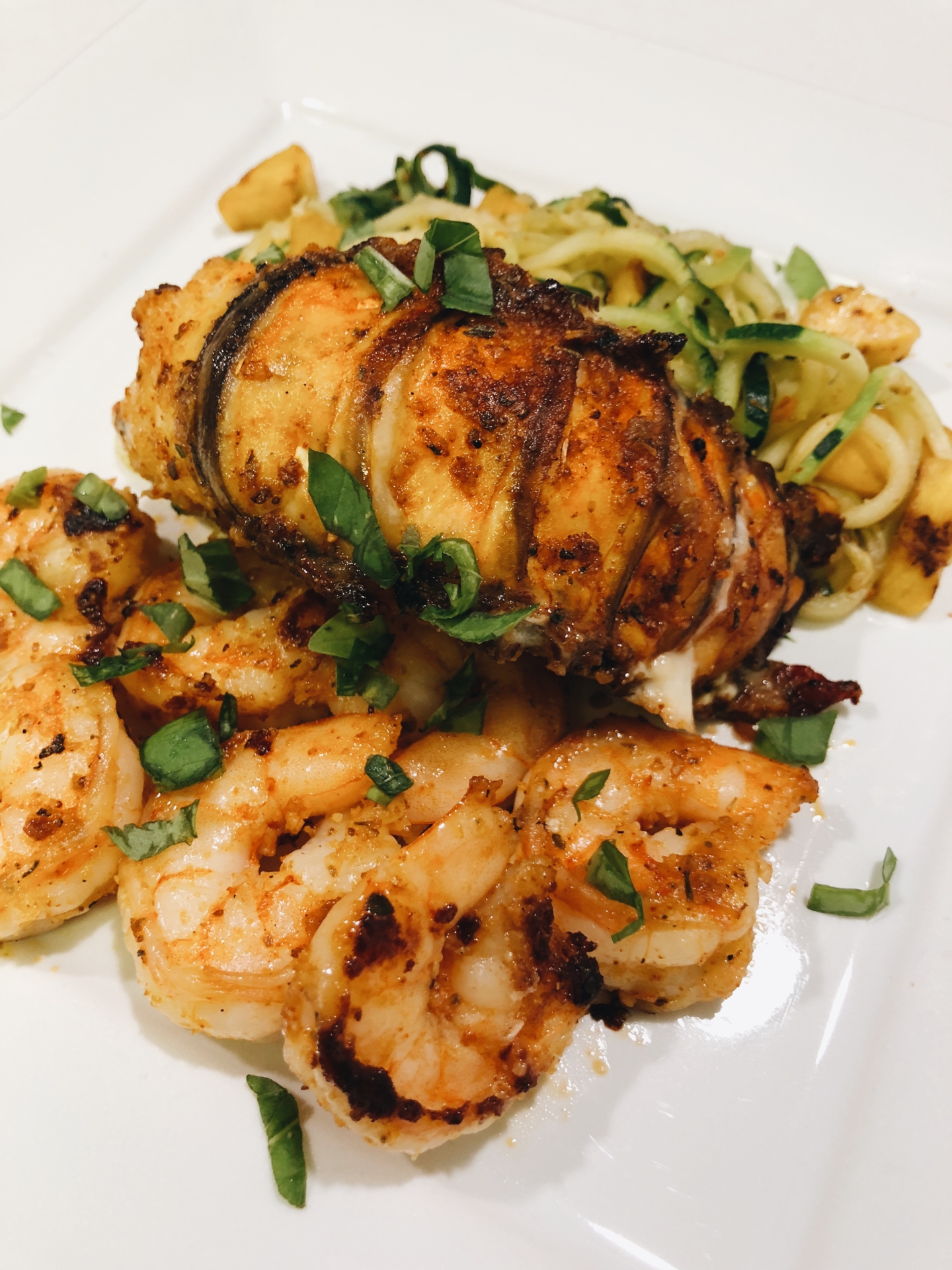 Lobster Tail
Pre-heat oven to 375 degrees.
With sharp kitchen scissors or a knife, carefully cut the top of the lobster tail shell down to the tip of the tail, avoiding the meat. Carefully remove the lobster meat from shell and season both side with a pinch of salt, cajun seasoning, garlic and parsley seasoning.
Heat the olive oil in a large fry pan over medium-high heat. Place the lobster in the pan, sauté until cooked through, about 5 minutes, turning a couple times to cook evenly.

Set lobster tails on a baking sheet or in an oven safe dish and bake for 5 – 10 minutes.

Shrimp:
Heat 1 tablespoon of olive oil in a large heavy bottomed skillet over medium heat.

Add the shrimp to the skillet and sprinkle with spices (salt, cajun, garlic and parsley).

Cook, stirring occasionally, for 4-5 minutes or until shrimp is cooked through.

Remove shrimp to a plate and set aside.

Plantains
Cut the plantains into cube size. Preheat oil in a large, deep skillet over medium high heat. Fry the pieces until browned and tender. Add in the zucchini and fry for 3 minutes.

Once you have your dishes complete and ready, time to plate together and eat.