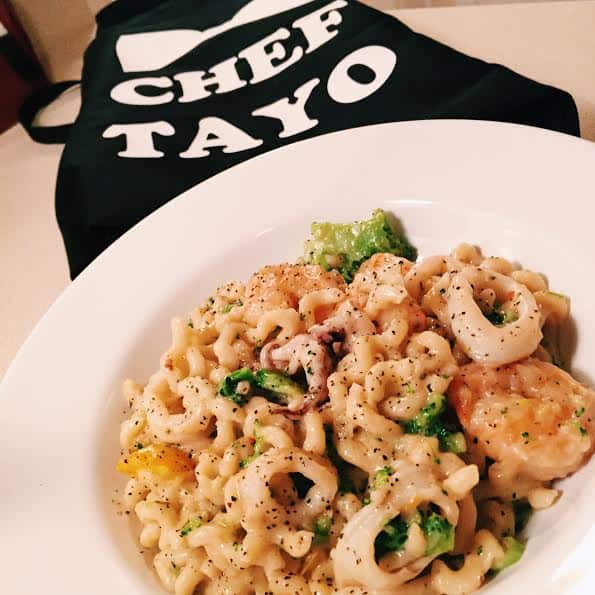 Pasta Alfredo with Shrimp, Squid, Peppers, Broccoli, and Fresh Basil
Ingredients
Pasta
1/2 pound of shrimp (raw or pre cooked)
1 pound of squid
1 cube of maggi seasoning
Chopped mixed pepper mix (red, yellow and green)
1/2 cup of Broccoli
1 tsp cayenne pepper
1 tsp thyme
1 tsp parsley flakes
1 tsp garlic powder
Fresh Basil Leaves
Sesame oil
Alfredo Sauce (Newman's Own - or natural Alfredo sauce of your choice)
Instructions
Fill a pot up with water, add pasta, 1 tablespoon oil and 1 tsp salt and boil over medium heat until desired tenderness.
Cut your squid into small pieces and seasoning in a bowl with shrimp, oil, cayenne pepper, parsley flakes, thyme, and garlic powder.
In a wok, add 1/4 cup sesame oil, heat over medium heat. Add 1 cube of maggi after 2 minutes, let the maggi dissolve before adding the other ingredients.
Add in pepper mix, shrimp and squid mix, broccoli, mix and cook for 10 minutes.
Once you drain the pasta, add into the wok, add Alfredo sauce. Mix together and lower the heat to low and cook for 5 minutes.
Add fresh basil leaves and stir together before serving. After you serve, add black pepper.
Enjoy and make sure you tag #DinnerWithTayo, would love to see your dish.