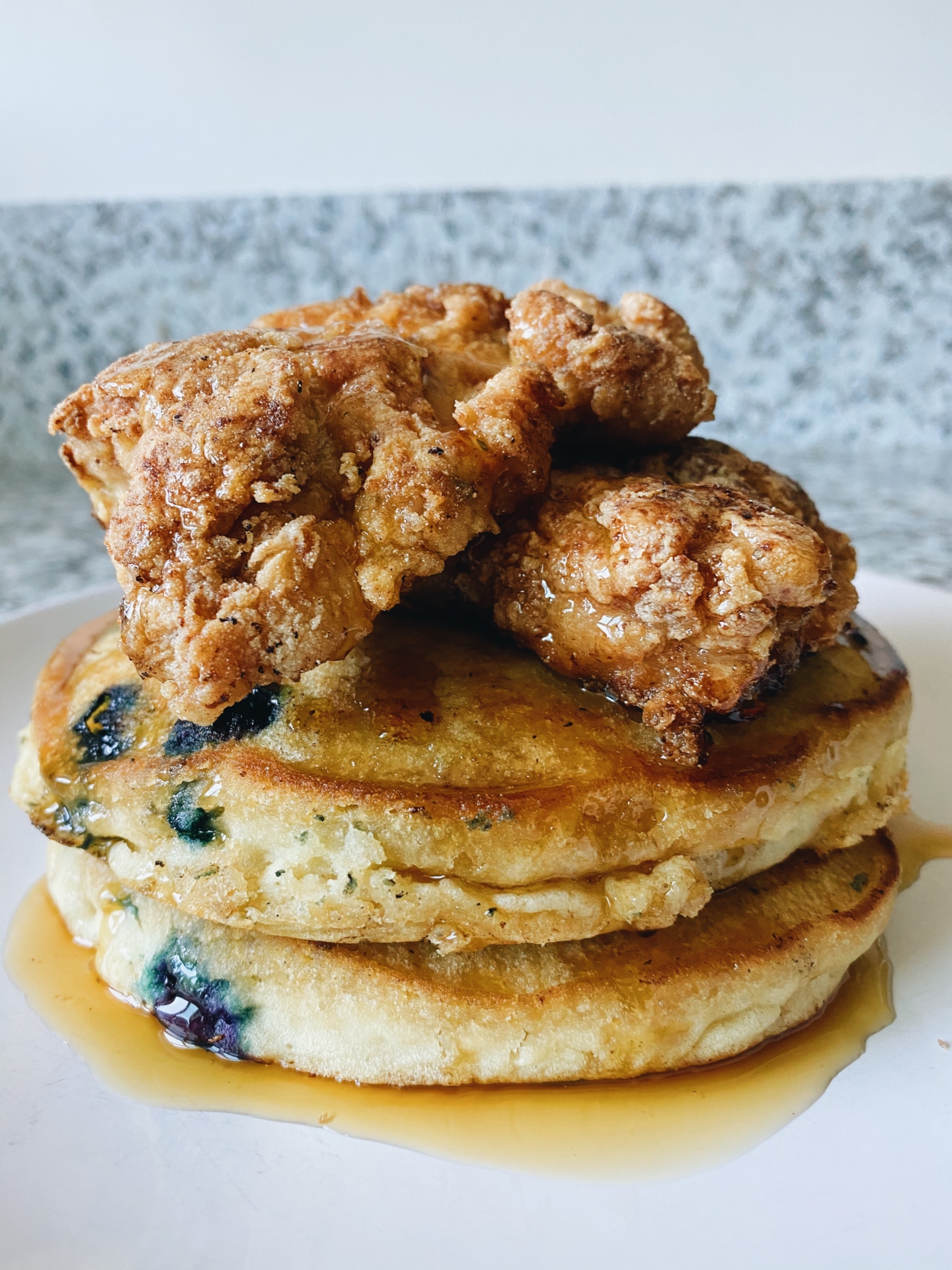 Chicken and waffles might be a great combination but have you tried blueberry pancakes and fried chicken? Well, say hello to your new favorite brunch special. This irresistible recipe combines the classic sweetness of fluffy blueberry pancakes with the savory and crispy crunch of fried chicken for a taste sensation that's simply out of this world. With the perfect balance of sweet and savory flavors, this recipe is perfect for any occasion, from a lazy weekend breakfast to a special brunch celebration. Whether you're a seasoned cook or just starting out in the kitchen, this Blueberry Pancake and Fried Chicken recipe is a must-try that's sure to become a new favorite in your household.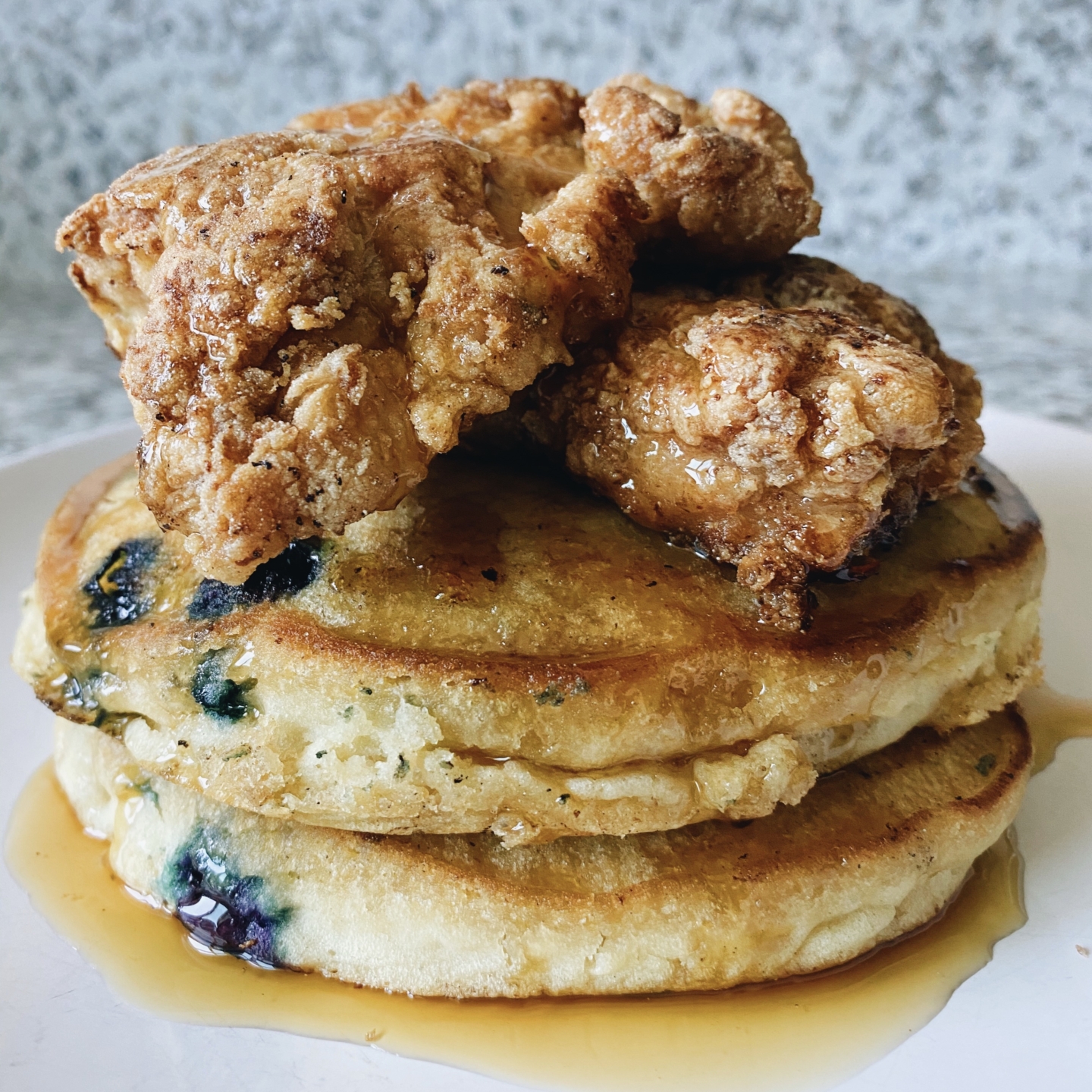 INGREDIENTS
Fried Chicken
1 pack of boneless skinless chicken thighs
2 cups all-purpose flour
1 tbsp salt
2 tsp garlic powder
1 tsp red pepper flakes
1 tbsp chicken bouillon
2 – 3 eggs
1/4 C brown sugar
Blueberry Pancake
2 C all-purpose flour
1/4 C granulated sugar
4 tsp baking powder
1/4 tsp baking soda
1/2 tsp salt
1 3/4 C milk,
1/4 C butter
2 tsp pure vanilla extract
1 large egg
Blueberries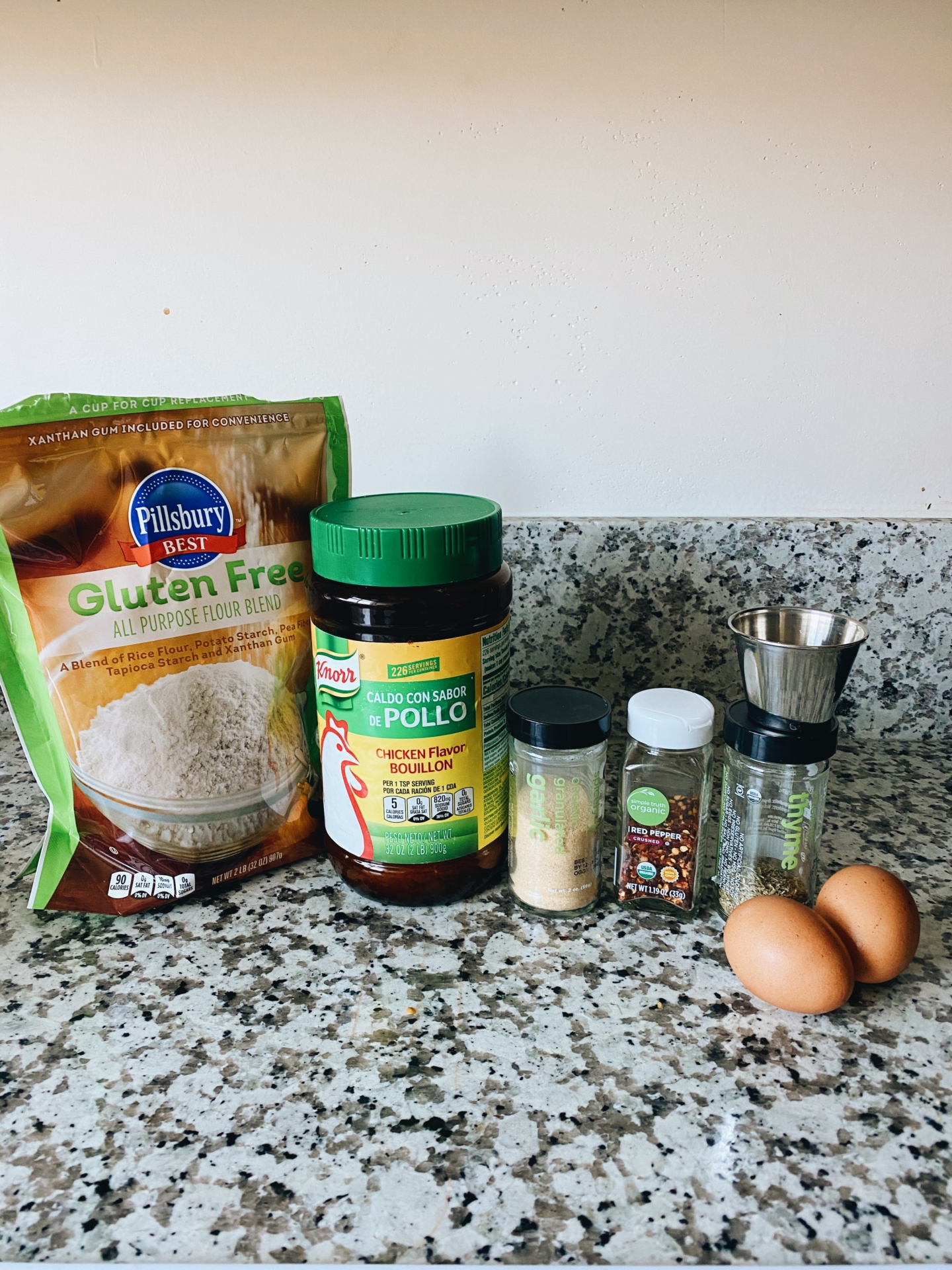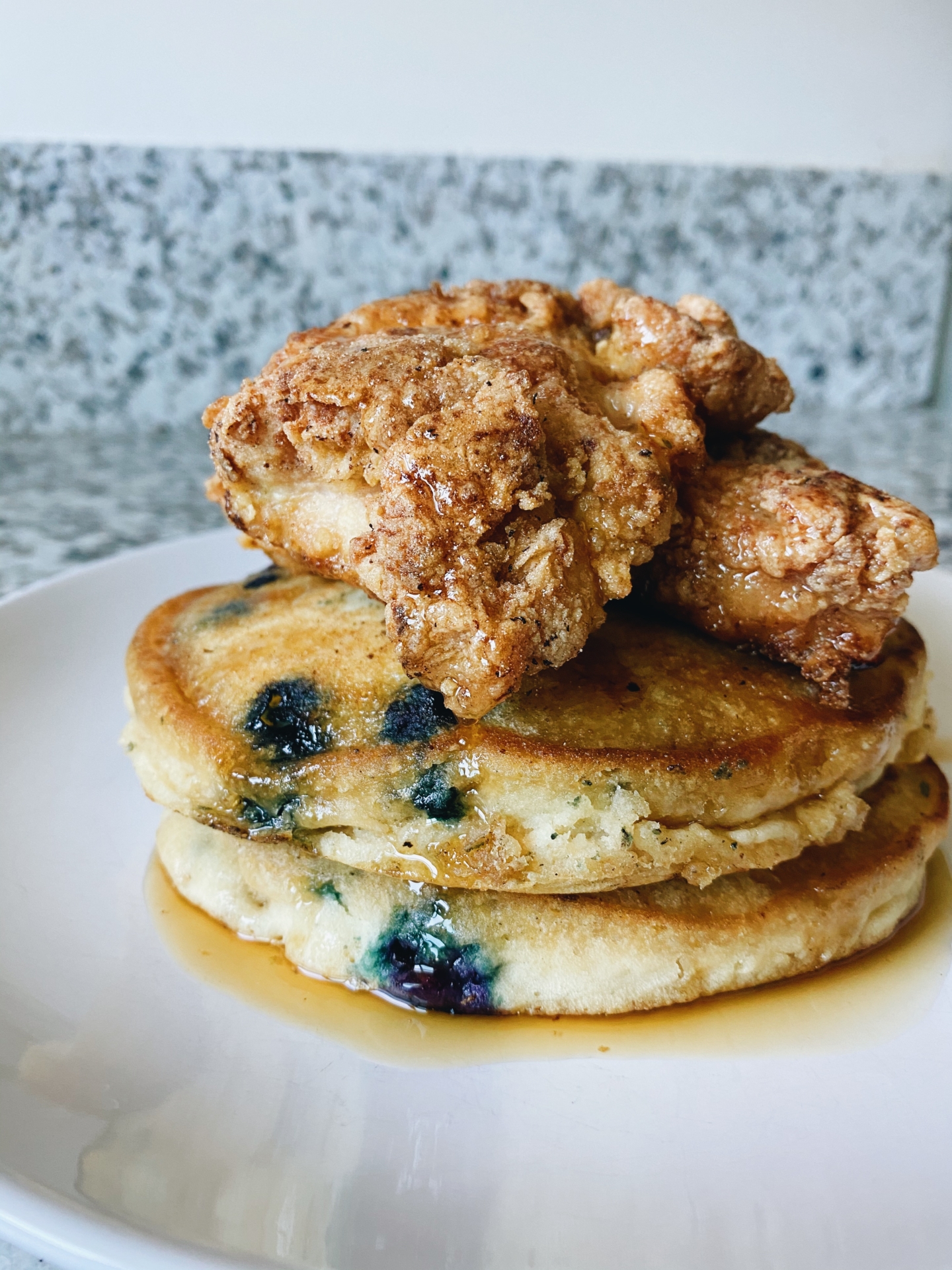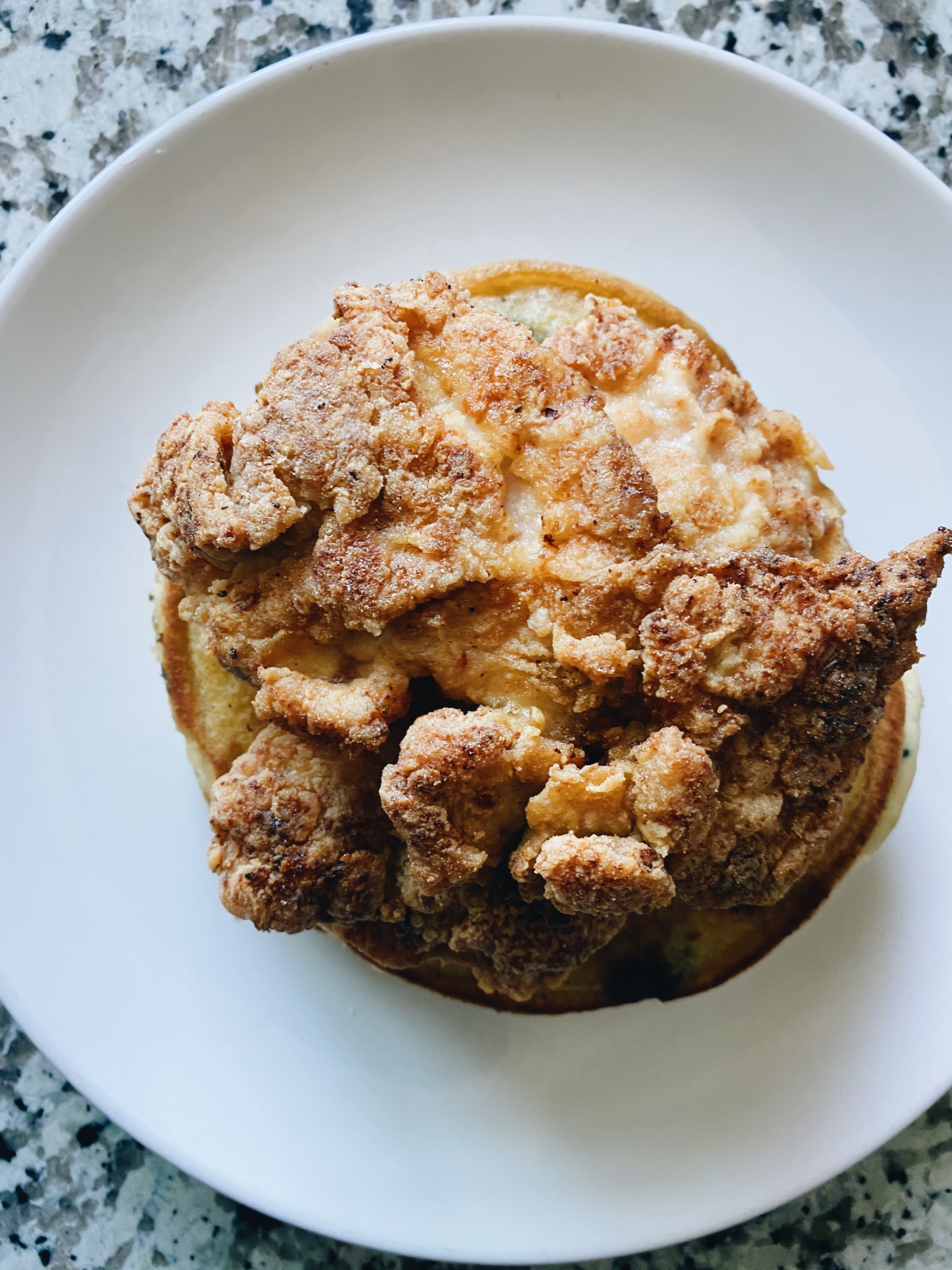 INSTRUCTIONS
Seasoning chicken thighs with salt, chicken bouillon, red pepper flakes, and garlic powder.
In a large bowl combine flour and brown sugar together.
Dip the chicken (one at a time) into the eggs first and then flour mixture until both sides are completely coated. Shake off any excessive flour mix.
Heat olive oil in a large deep skillet over medium-high heat and fry the chicken a few pieces at a time. Fry the chicken on both sides until it's golden on both sides and has cooked through.
Transfer the chicken to a baking sheet pan and bake at 350°F for 10 minutes.
Time to make your pancake mix while the chicken's in the oven. In a large bowl, combine flour, sugar, baking powder, baking soda, and salt together.
In a separate bowl, mix the milk, cooled melted butter, vanilla, and egg together. Whisk the wet mixture together.
Slowly pour the wet mixture into the dry mixture, fold together and add in blueberry. Continue to fold until it's smooth.
Slight grease a nonstick pan or griddle with melted butter and heat the pan over low-medium heat. Pour ¼ cup of the pancake batter onto the pan and spread out gently into a round shape with the back of your ladle or measuring cup.
Cook the pancakes on both sides until golden. Repeat with the remaining batter.
Serve up the pancakes with the fried chicken. Pour syrup over the finished dish and enjoy it.
Make sure you hashtag #DinnerWithTayo, I would love to see your dish.