This Homemade Oxtail Ravioli puts a twist to the traditional Italian dish. This recipe features tender, slow-cooked oxtail that's shredded and mixed with herbs, spices, and parmesan cheese to create a savory and indulgent filling for the ravioli. The pasta dough is made from scratch and rolled out into thin sheets, then filled with the oxtail mixture and cut into individual ravioli. The ravioli is then boiled until tender and served with a simple yet flavorful sauce of butter, sage, and garlic. The result is a decadent and comforting pasta dish that's sure to impress your dinner guests or satisfy your craving for a hearty and delicious meal. If you're a fan of Italian cuisine or simply looking to try something new and exciting, give this Homemade Oxtail Ravioli recipe a try and savor the flavors of Italy in every bite.
Ingredients
Oxtails filing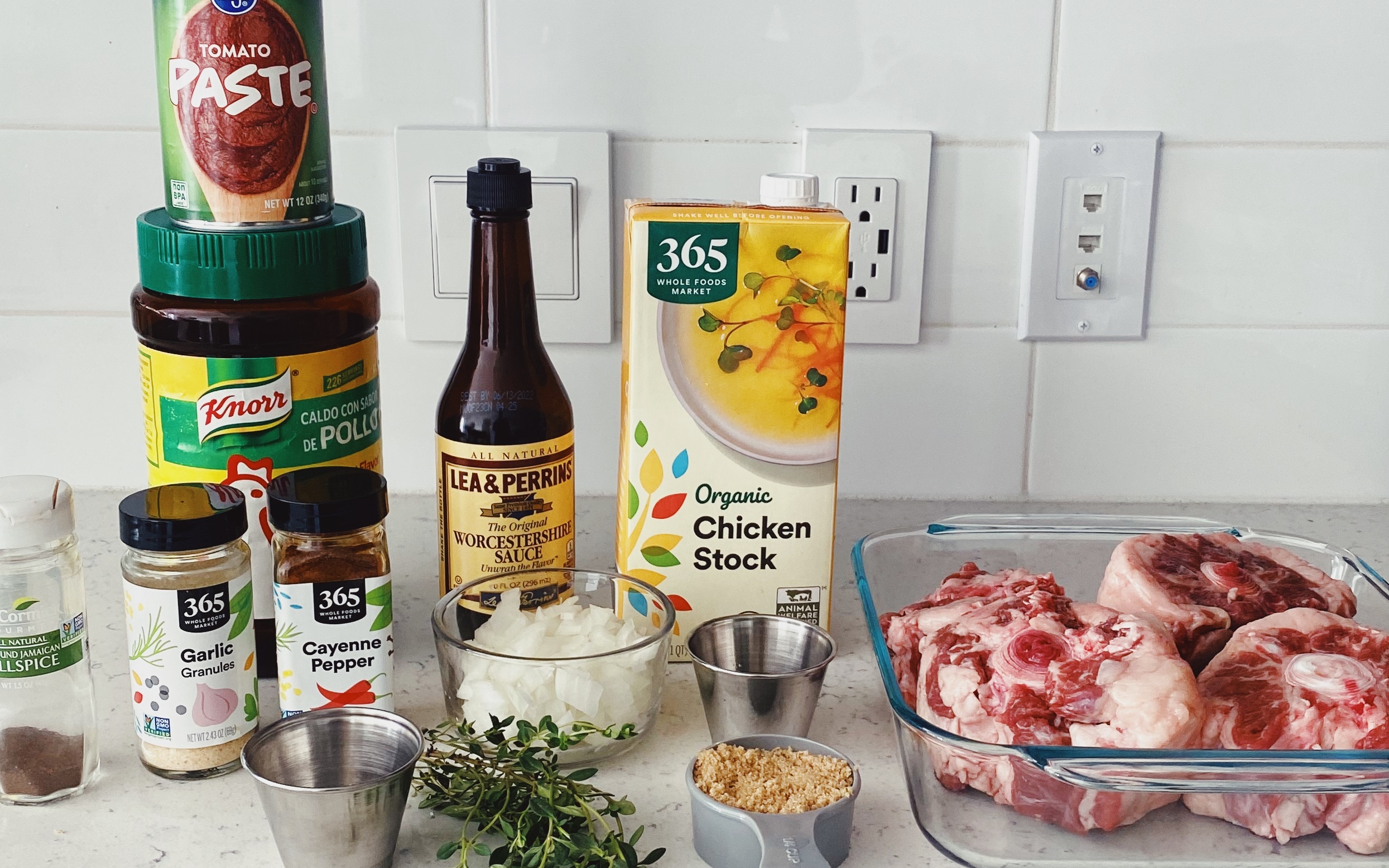 2 pounds oxtails
5½ teaspoons kosher salt, divided
2 tablespoons olive oil
½ medium yellow onion, chopped
1 12-ounce can of tomato paste
¼ cup brown sugar
1 teaspoon ground allspice
1 tablespoon chicken bouillon powder
1 teaspoon cayenne pepper, plus more to taste
1 teaspoon garlic powder
2 cups chicken broth
1 tablespoon Worcestershire sauce
1 teaspoon browning
4 sprigs of fresh thyme, divided
Ravioli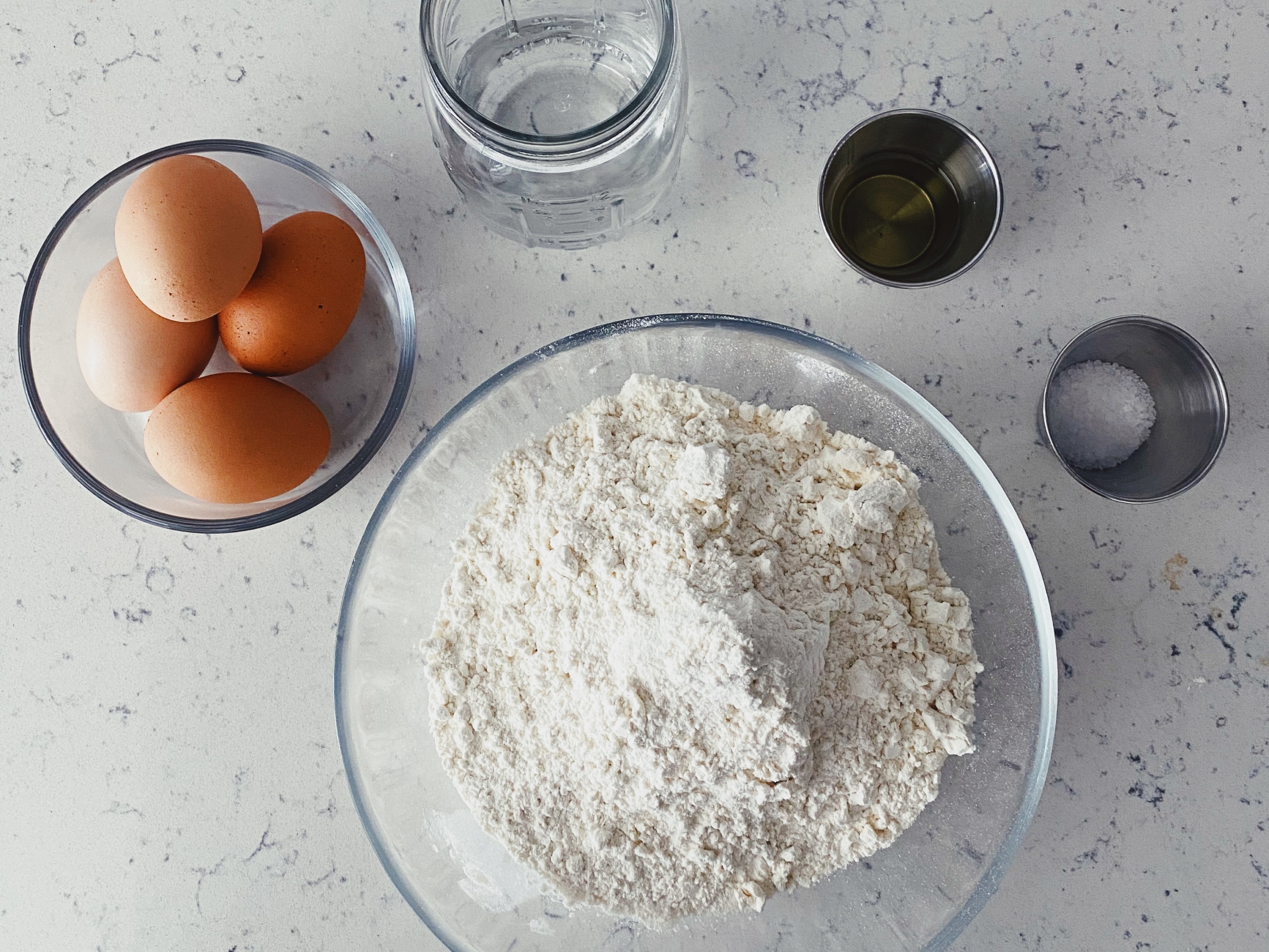 3 large eggs
2 large egg yolks
2 tablespoons olive oil, plus more for coating
3 cups all-purpose flour, plus more for dusting
1 tablespoon plus 1 teaspoon kosher salt, divided
Egg wash or water, for brushing
Sauce
2 tablespoons unsalted butter
5 ounces fresh spinach
Pinch of kosher salt
Fresh basil, for garnish
Grated Parmesan cheese, for garnish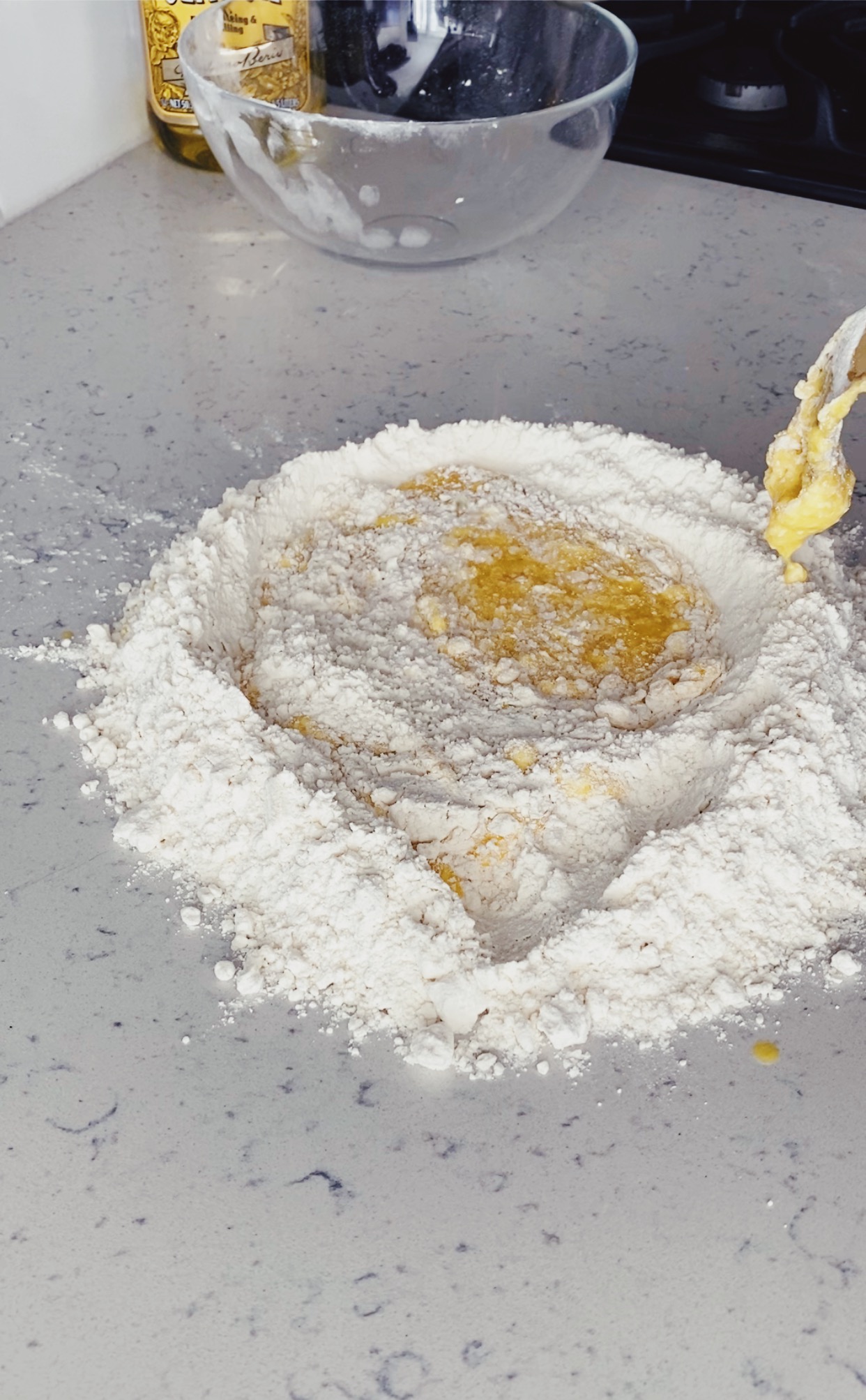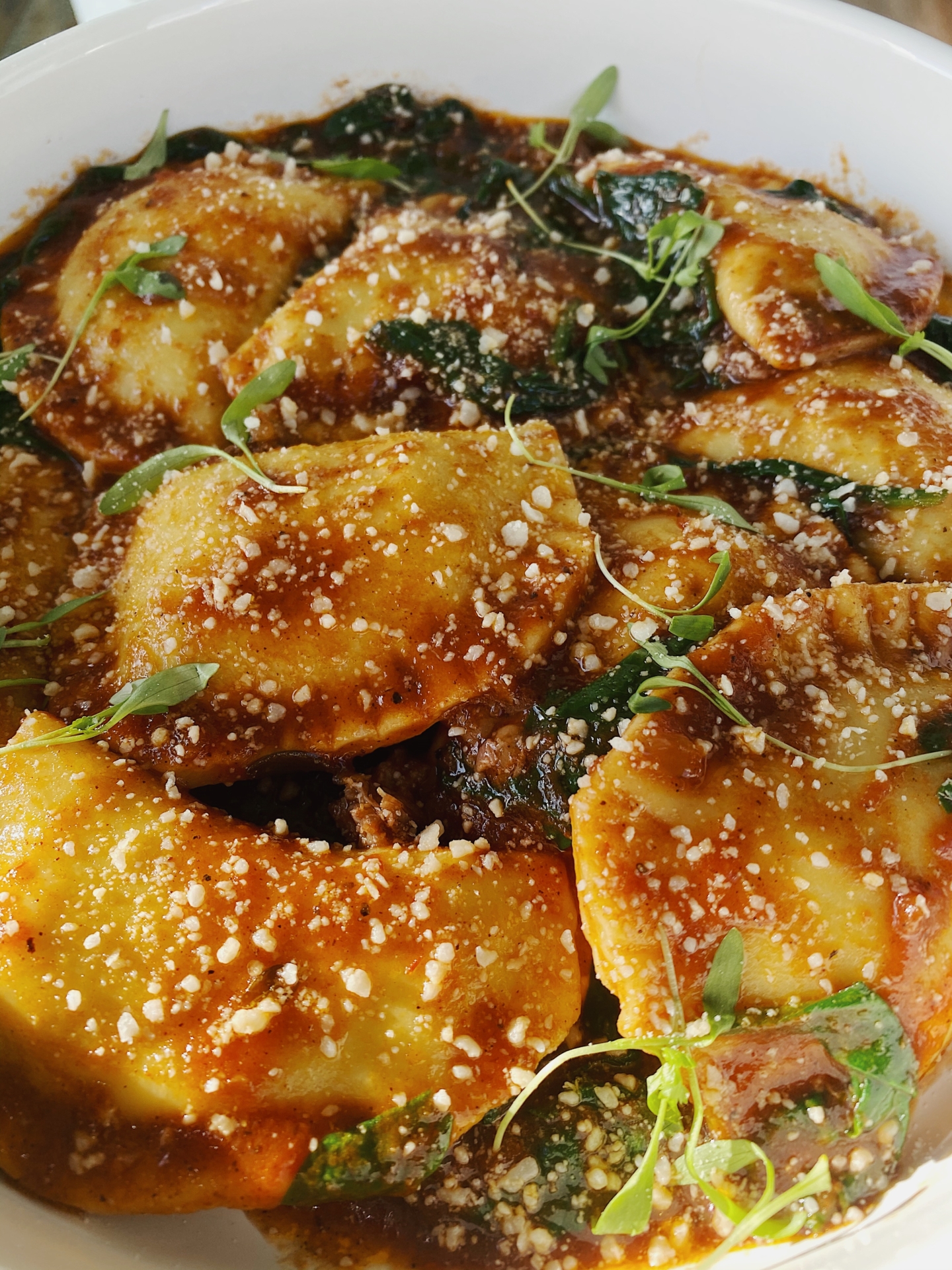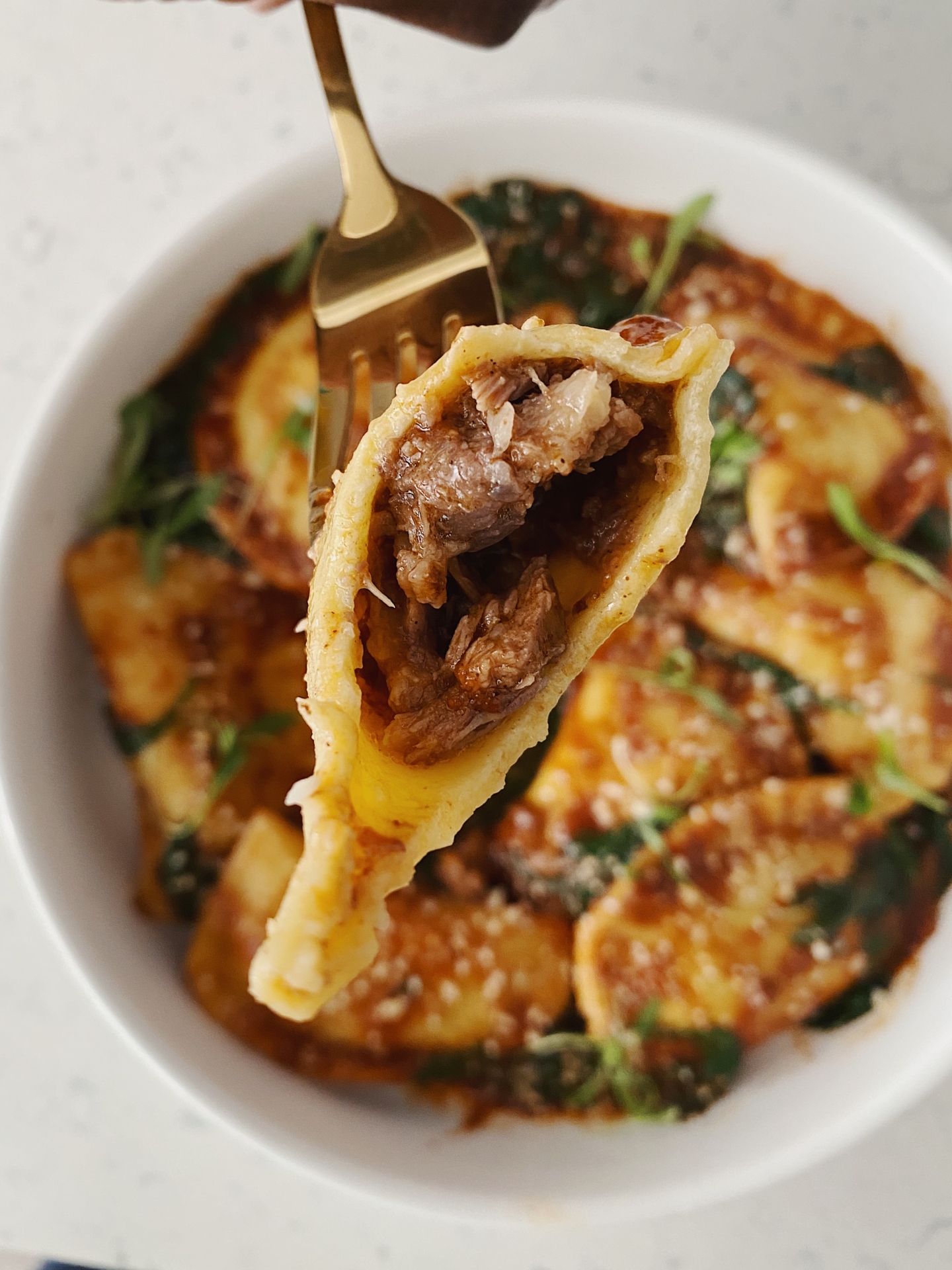 Instructions
Make the pasta dough: In a medium bowl or container, whisk together the eggs, egg yolks, and olive oil.
In a large bowl, whisk together the flour and 1 teaspoon salt.
Turn the flour mixture out onto a clean surface and make a well in the center. Gradually pour the egg mixture into the well and mix with a fork until the flour begins to clump together, then use your hands to knead the dough until stiff and no longer sticky. You may not need to use all of the flour. Shape the dough into a ball and drizzle with a bit of olive oil. Cover with plastic wrap and let rest at room temperature for about 30 minutes.
Meanwhile, make the oxtail filling: Season the oxtails ½ teaspoon salt on each side.
Heat a pressure cooker on High Sauté mode. Once hot, add the olive oil, then add the oxtails and sear on both sides until browned, 5 minutes. Remove from the pressure cooker and set aside.
Add the onion to the pressure cooker and sauté for about 3 minutes, until softened. Add the tomato paste, brown sugar, remaining 1½ teaspoons salt, the allspice, chicken bouillon powder, cayenne, garlic powder, chicken broth, Worcestershire sauce, browning, and 2 sprigs of thyme and mix well. Cook for 5 minutes until combined.
Return the oxtails to the pressure cooker, along with the remaining 2 sprigs of thyme. Cover the pressure cooker, seal, and cook on high pressure for 45–50 minutes, until the oxtails are tender. Allow the pressure cooker to naturally release, then uncover and remove the oxtails, leaving the liquid behind.
Remove as much meat as possible from the oxtail bones and cut into small pieces. Set aside.
Lightly dust a clean surface with flour. Cut off a portion of pasta dough and, using a rolling pin, roll out into a large, thin rectangle. Cover the dough sheet with plastic wrap to keep from drying out while you repeat with the remaining dough.
Spoon 1-tablespoon mounds of the oxtail meat onto one of the dough sheets, leaving about 1 inch of space between each mound. Lightly brush egg wash or water over the exposed dough. Fold the dough in half over the filling, pressing down between each mound and around the edges to seal and release any air pockets. Using a pastry or pizza cutter, cut the ravioli into individual half-circles, trimming any excess dough around the edges. Press around the edges with a fork to ensure they are firmly sealed.
Fill a large pot with water and add the remaining tablespoon of salt. Bring to a boil, then add the ravioli in batches and cook, stirring occasionally, until the water returns to a boil and the ravioli float easily to the surface, 3–4 minutes. Remove the ravioli from the pot with a slotted spoon and transfer to a plate.
Make the sauce: Melt the butter in a large saucepan over medium-low heat. Add the spinach, a pinch of salt, and 1–2 cups of the oxtail braising liquid and cook until it simmers.
Add the ravioli to the sauce and toss until well coated.
Transfer the ravioli to serving bowls and sprinkle with basil and Parmesan cheese. Serve warm.
Enjoy and don't forget to share your photos on social media and hashtag, #dinnerwithtayo.