Looking for a tasty and healthy alternative to traditional beef patties? Try this Plant-Based Beef Patties recipe! Made with simple ingredients like plant based ground beef, and spices, these vegan patties are packed with protein and flavor. Whether you're a vegan or just looking for a healthier option, these plant-based patties are a delicious and satisfying meal option. Plus, they're easy to make and perfect for meal prep. Don't let the steps intimidate you, the best feeling comes after you take the first bite into the patty once they are ready. Give this recipe a try and enjoy a flavorful and nutritious meal today.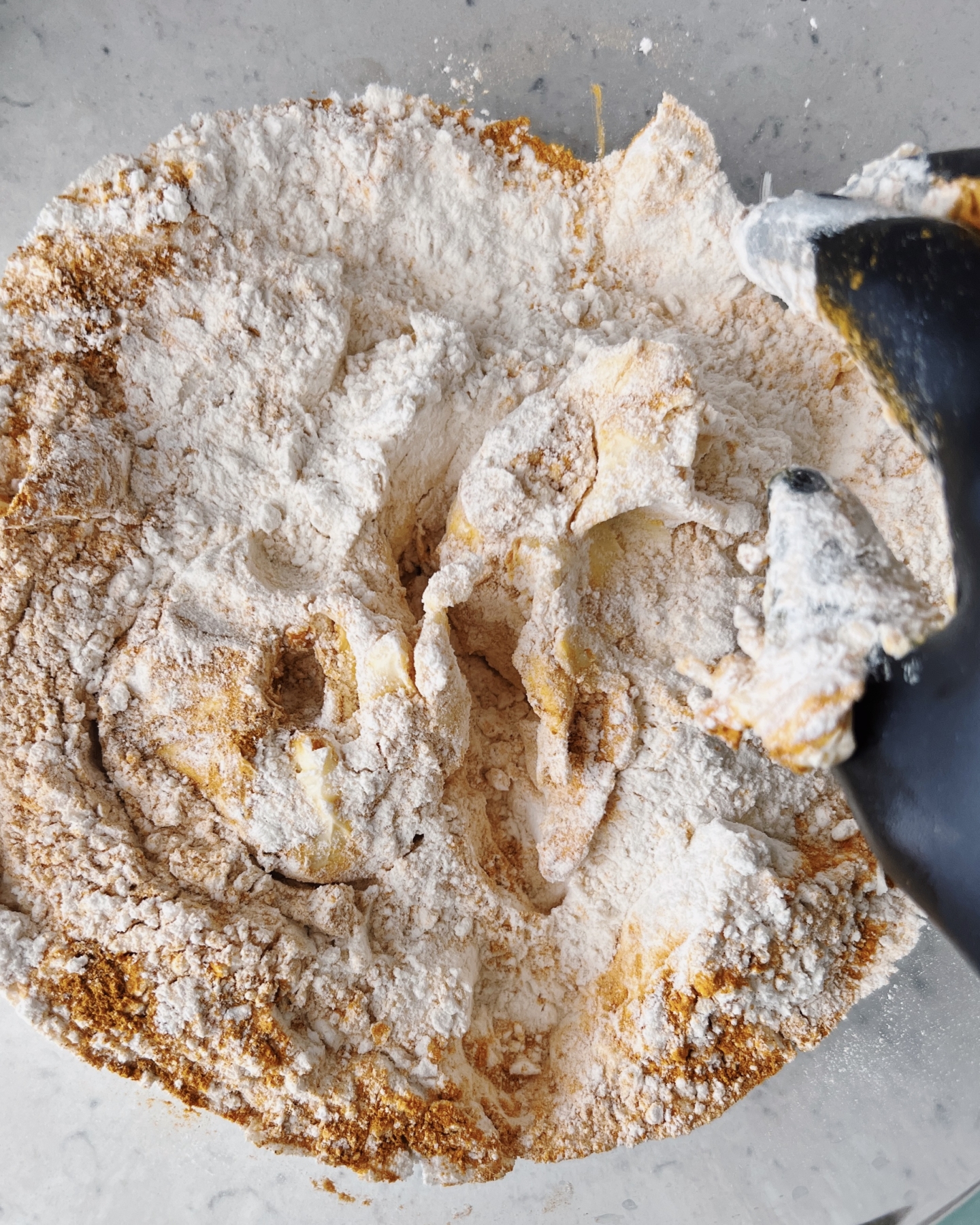 INGREDIENTS
CRUST:
2 ½ C organic all-purpose flour
1 Tbsp baking powder
1 Tbsp curry powder
½ tsp turmeric powder
1 tsp dried parsley
½ tsp dried thyme
1 C salted butter
1 C unsweetened Almond milk
1/2 tsp sugar
BEEF FILLING:
1 lb. plant based ground beef
2 Tbsps Extra virgin olive oil
1 scallion, chopped
1 small onion, chopped
2 scotch bonnet peppers, minced
2 garlic cloves, minced
½ cup vegetable stock
½ tsp ginger powder
2 bunches fresh thyme sprigs
1 tsp sea salt
1 tsp black pepper
1 tsp garlic powder
1 tsp onion powder
1 tsp smoked paprika
1 Tbsp browning
½ teaspoon vegetable bouillon base
Pinch of red pepper flakes (optional if you want it extra spicy)
INSTRUCTIONS
TO MAKE THE CRUST:
In a large bowl, add the flour, baking powder, sugar, curry powder, turmeric, parsley, and thyme, whisking them all together until combined.
Add the butter and combine together until the mixture becomes crumbly.
Pour the milk into the dry mixture and stir until the dry ingredients are moistened. NOTE: You can use one hand to stir together here. (Add 1 Tbsp of milk if the dough is still dry)
Form the dough into a ball and wrap it in plastic wrap and flatten it slightly and place in the refrigerator at least 1 hour.
MAKE THE FILLING:
In a bowl, add the ground beef, salt, black pepper, onion powder, smoked paprika, garlic powder, ginger powder, and red pepper flakes, mixing everything together until meat is coated in seasonings.
In a medium skillet over medium-high heat, add the oil, heat for 1 minute. Add the minced garlic and scotch bonnet pepper, cook until fragrant and translucent. Add the ground beef mix and stir until the meat begins to change color a bit. Add in thyme sprigs, continue to stir (and breakdown the meat with a wooden spoon) to ensure that it cooke through well and becomes small pieces. Reduce the heat and let it simmer for 5-6 minutes.
Add vegetable stock, browning, beef stock, red chili flakes , and let the meat continue to simmer for another 20-25 minutes or until the beef is cooked through fully and brown in color.
Once ready, set aside and let this cool down.
ASSEMBLY
Preheat the oven to 400 degrees Fahrenheit and line a baking sheet with parchment paper.
Remove the dough from the refrigerator and place on a lightly floured surface, rolling it out (see picture above). Cut into medium circles.
Lightly brush water one one half of your dough (this will help the dough close together when folding). On the other half of the dough, add 2 Tbsps of the beef filling and carefully fold the dough in half (see picture above) Using a folk, press around the edges down and using a fork. Repeat until all patties are made.
Bake in the oven 20-25 minutes, or until golden brown and the crust looks crispy.
Once done, remove from the oven and let them cool for a few minutes. Enjoy
Make sure you hashtag #DinnerWithTayo, I would love to see your dish.