This delicious spinach pumpkin lasagna with layers of plant based cheese and pumpkin puree is the perfect recipe to kick off the fall season. This recipe is ideal for family dinner and the comfort food.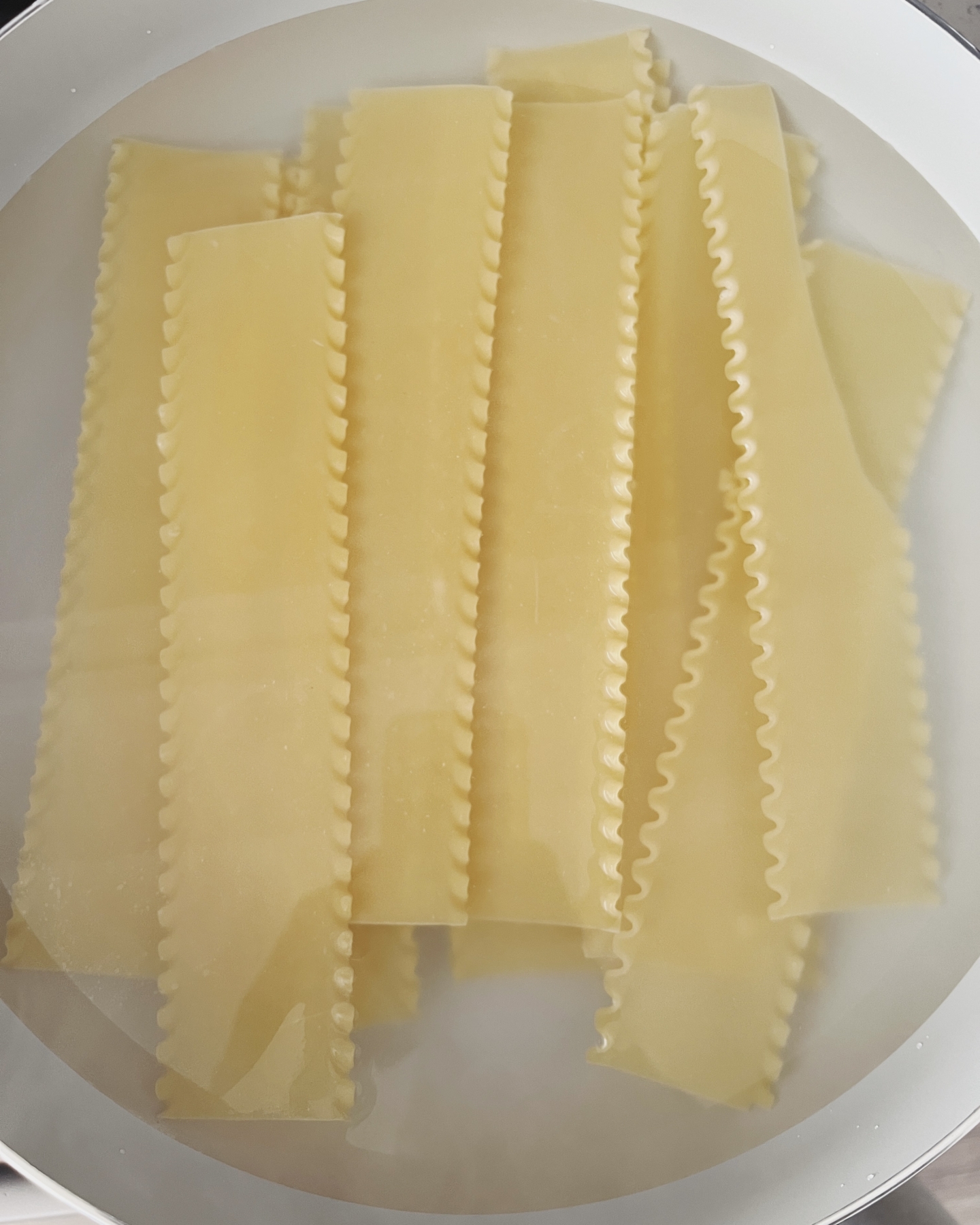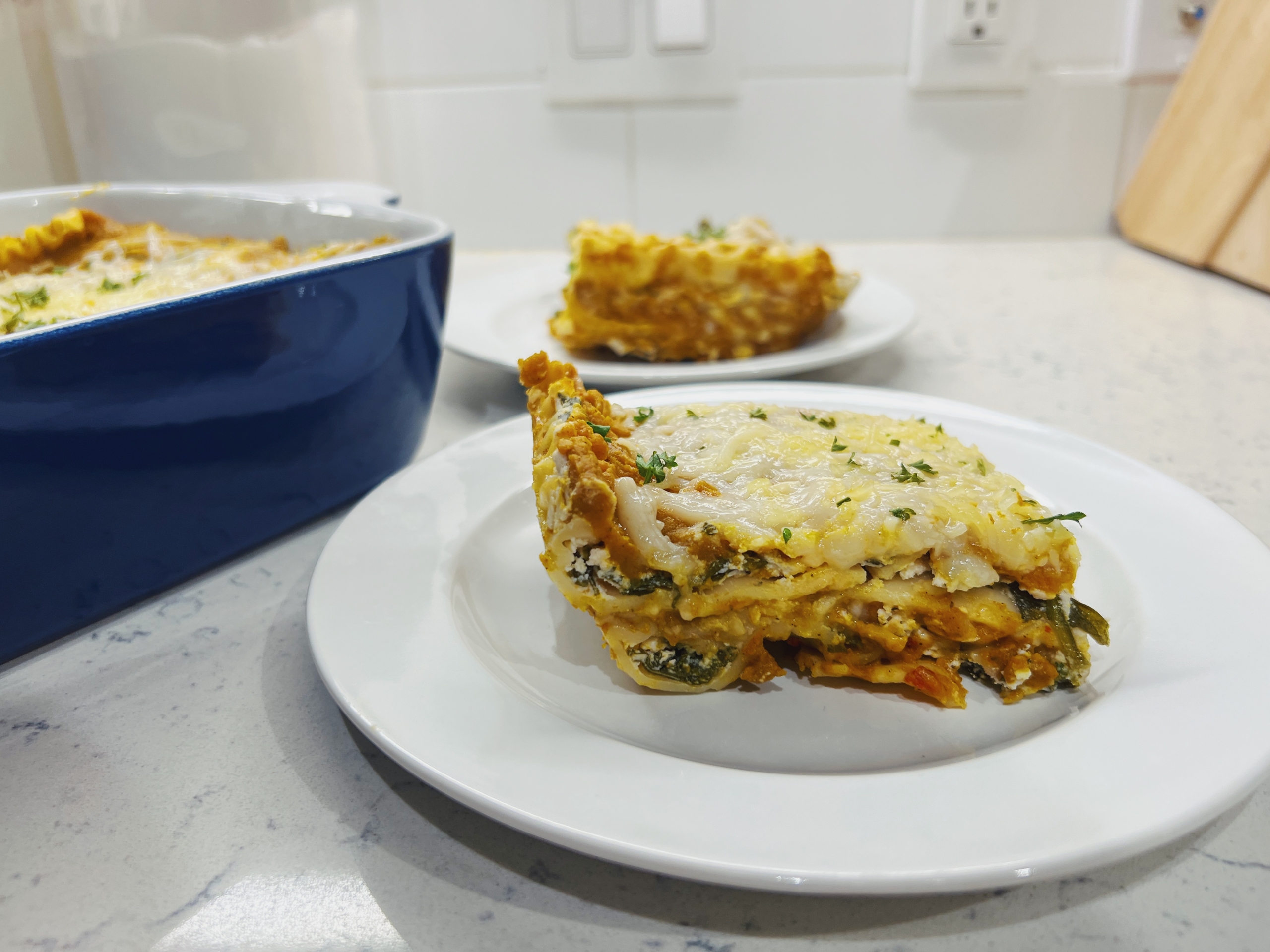 INGREDIENTS
CRUST:
½ Tbsp olive oil
6 ounces spinach (from 1 bag spinach)
1 (15 ounce) container ricotta
1 Tbsp vegan egg (or egg whites)
½ tsp garlic powder
½ tsp salt
Freshly ground black pepper
PUMPKIN LAYER
2 (15 ounce) cans pumpkin puree
½ cup unsweetened almond milk
¼ tsp cinnamon
2 Tbsp sugar
1 tsp nutmeg
1 tsp ginger
1 tsp allspice
1 tsp of salt
1 tsp red pepper flake
CHEESE LAYER / GARNISH
3 cups shredded plant based mozzarella cheese, divided (approximately 12 ounces)
1 cup grated plant based parmesan cheese
Fresh chopped parsley
INSTRUCTIONS
Preheat oven to 400 degrees F. Grease a 9×13 inch baking pan with nonstick cooking spray.
Bring a large pot of water to a boil. Cook the lasagna noodles for 5-6 minutes, then drain. Immediately lay the noodles flat on an oiled baking sheet and set aside.
In a medium pan over medium high heat, add ½ tablespoon olive oil. Cook the spinach, season with a little salt and pepper and cook until spinach wilts down. Once ready, set aside and allow too cool for a minute or two.
In a small bowl, add the spinach, ricotta, egg, garlic powder, salt and pepper. Set aside.
In a large bowl, add pumpkin, milk, sugar, cinnamon, nutmeg, ginger, allspice, salt and pepper. Mix until fully combine.
To assemble the lasagna, spread 1 cup of pumpkin mixture over the bottom of the baking dish. depending on the side of your baking pan, place 4-5 of the cooked lasagna noodles on top of the pumpkin spread. Spread half of the spinach-ricotta cheese mixture on top of the noodles, then top with shredded mozzarella.
Next, add 1 cup of the pumpkin mixture on top of the mozzarella and then sprinkle with parmesan cheese.
Repeat layers once more with remaining ingredients. You should finish the top with the pumpkin spread and top with remaining shredded mozzarella and parmesan cheese.
Cover with foil and bake for 25 minutes. Remove foil and bake another 15-20 minutes until cheese starts to brown just a bit.
When ready, remove from the oven. Let it cool down for 10 minutes. Garnish with extra parmesan (if desired) and either chopped parsley. Cut and serve and enjoy.
Make sure you hashtag #DinnerWithTayo, I would love to see your dish.