This Fresh Green Sauce Linguine recipe is a perfect way to add some color and freshness to your dinner table. It's super creamy, packed with fresh greens and ready within a couple of minutes. The recipe features a delicious and easy-to-make sauce made with fresh herbs, lemon juice, and olive oil, which is then tossed with tender linguine noodles.
The result is a bright and flavorful pasta dish that's both satisfying and healthy. This recipe is also customizable, as you can add your favorite veggies or protein to the dish to make it more substantial. Whether you're a vegetarian or just looking for a light and refreshing pasta dish, give this Fresh Green Sauce Linguine a try and enjoy the taste of fresh and healthy ingredients in every bite.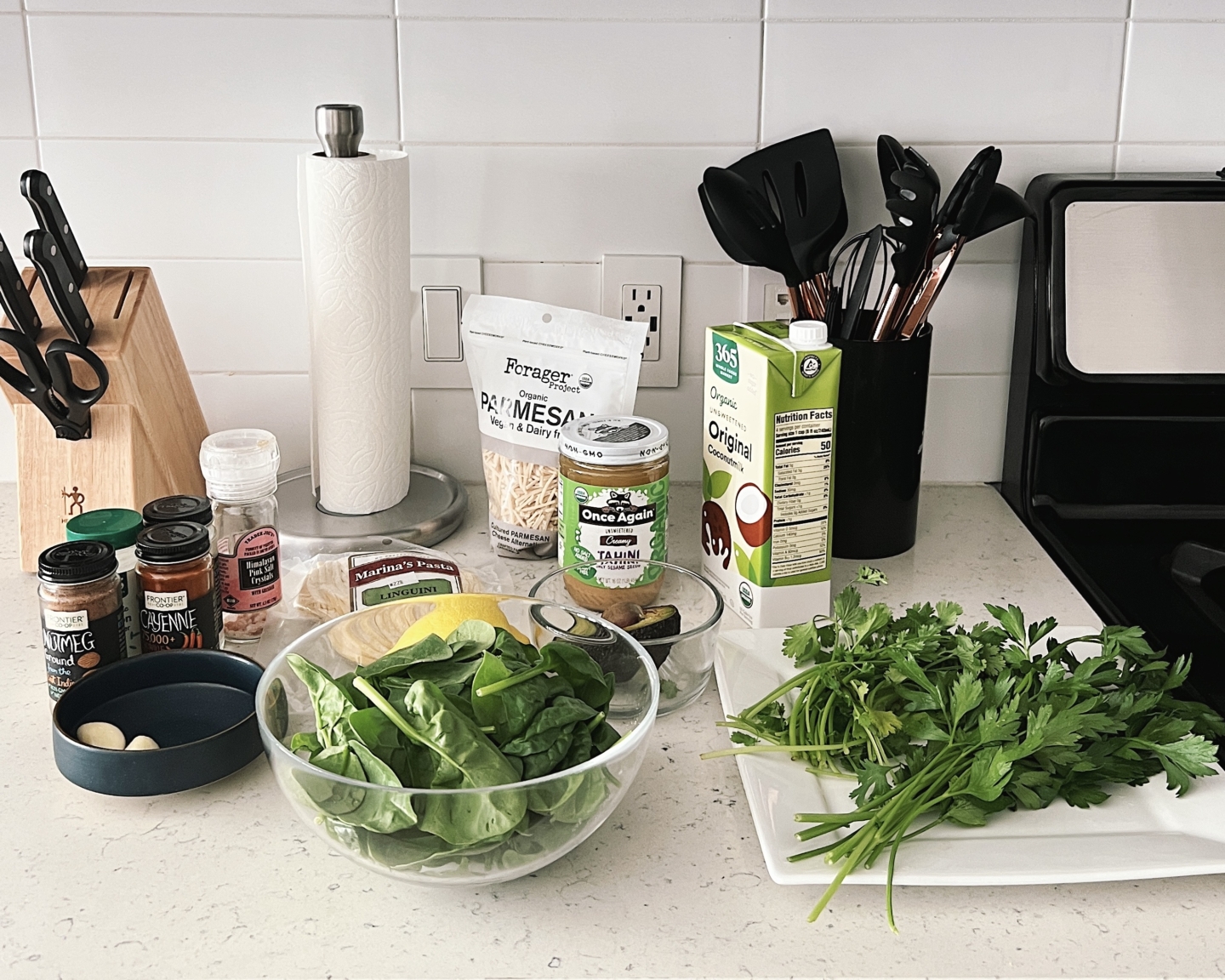 INGREDIENTS
Pack of linguine (preferably fresh linguine or any choice of pasta)
½ cup parsley
½ cup cilantro
3 cups spinach
1 avocado
2 cloves garlic
2½ tsp onion powder
½ tsp garlic powder
1/2 tsp cayenne
¼ tsp nutmeg
1/4 cup tahini
1 tsp salt
1½ – 2½ tbsp lemon juice
1 cup coconut milk
Vegan parmesan cheese
INSTRUCTIONS
Cook the linguine according to the instructions on the package. Set aside once done.
Remove the stone and skin from the avocado and peel the garlic.
Add parsley, cilantro, and spinach to the bowl of a food processor or high-powered blender. Add the avocado, garlic cloves, ground onion, ground garlic, cayenne, nutmeg, tahini, and salt. Process until as smooth as possible.
Add in the coconut milk and 1.5 tbsp of the lemon juice and blend for one minute. Taste for lemon juice and add the remaining lemon juice as needed.
Cover and refrigerate until needed or stir into hot drained pasta straight away and sprinkle with vegan cheese, cracked black pepper, and extra herbs if desired.
Make sure you hashtag #DinnerWithTayo, I would love to see your dish.