Breakfast just got a lot easier. This loaded vegan breakfast burrito is the perfect way to start your day. All your favorites wrapped up in one.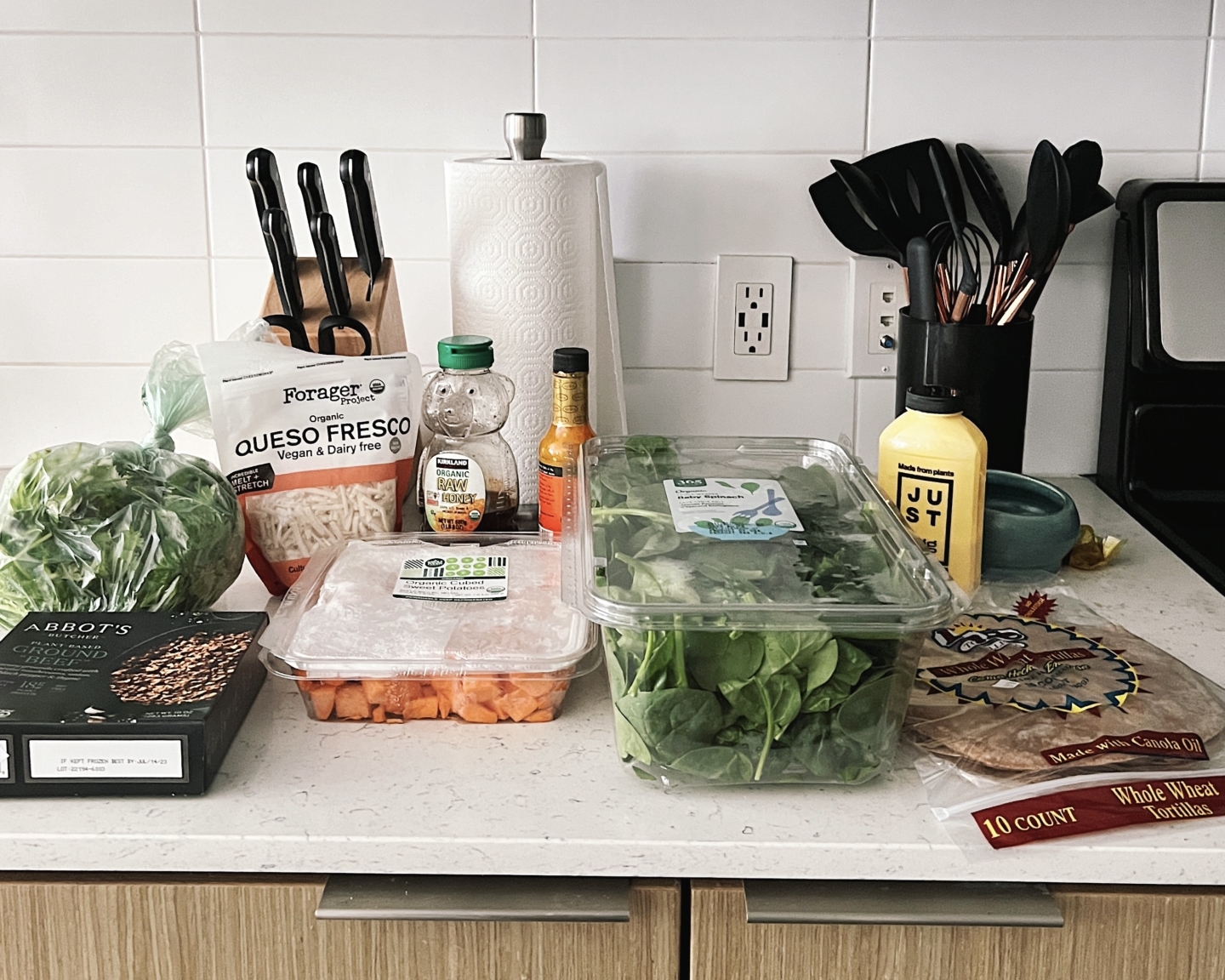 INGREDIENTS
Just eggs (or choice of vegan eggs)
½ C plant based ground beef
Spinach
1/4 cup Cilantro minced
½ cup onion diced
2 cloves garlic freshly minced or crushed
1 – 2 C grape tomatoes (diced into small pieces)
1 tbsp lime juice
pre-cut sweet potatoes
1-2 whole wheat tortillas
vegan queso fresco cheese
1 Tbsp honey
1 Tbsp habanero sauce
Micro greens
Salt for taste
Olive oil.
INSTRUCTIONS
Prepare the eggs, set aside once ready
Cook the ground beef and spinach separately over medium heat with olive oil. Set aside once ready.
In a small bowl mix together, cilantro, onions, grape tomatoes, garlic salt and lime juice.
Air-fry or pan fry sweet potatoes until tender.
Assemble theburritos. Grab a large burrito-sized tortilla. Add sauce onto one half of the tortilla, leaving a border on the edges. Spoon some of the eggs scramble on top, followed by the roasted potatoes, pico de Gallo, ground beef, spinach, queso cheese.

Tip: When adding the salsa, limit the amount of liquid from the salsa to avoid the burrito getting wet.

Roll the burritos. Pinch in the edges of the tortilla and fold it over the filling. Tuck the fillings into the tortilla, fold the edges in again, and give it a final roll. Repeat with the remaining tortillas and fillings, or store the leftover fillings separately in the fridge.
Griddle the burritos. Heat a frying pan over medium heat. Add a touch of oil or cooking spray (not needed if your pan is nonstick). Add the burrito, seam-side down. Press down on the burrito with a large spatula or with a plate. Cook for 2 minutes, or until golden brown on the bottom. Carefully flip and cook another 1 to 2 minutes, or until golden brown on the second side.
Serve burritos warm with extra honey habanero sauce on the side, if desired.
Make sure you hashtag #DinnerWithTayo, I would love to see your dish.