Buttermilk fried chicken is a classic Southern dish that has been enjoyed for generations. The dish consists of chicken pieces that are coated in a buttermilk marinade, dredged in a seasoned flour mixture, and then deep-fried until crispy and golden brown.
The buttermilk marinade is an essential part of the recipe, as it helps to tenderize the chicken and infuse it with flavor. The marinade typically consists of buttermilk, which is a tangy, acidic dairy product, along with various seasonings such as garlic powder, onion powder, paprika, cayenne pepper, and salt. The chicken is then soaked in the marinade for several hours, or even overnight, to ensure that it is fully flavored and tender.
Once the chicken has marinated, it is dredged in a seasoned flour mixture, which typically includes all-purpose flour, salt, black pepper, garlic powder, onion powder, and paprika. The chicken is then deep-fried in hot oil until it is crispy and golden brown on the outside and cooked through on the inside.
Buttermilk fried chicken can be served in a variety of ways. It is often served with classic Southern sides such as mashed potatoes, macaroni and cheese, collard greens, and cornbread. It can also be served on a sandwich or in a salad.
Overall, buttermilk fried chicken is a delicious and comforting dish that is beloved by many. Its crispy exterior and tender, flavorful interior make it a perfect choice for a family dinner or a backyard barbecue.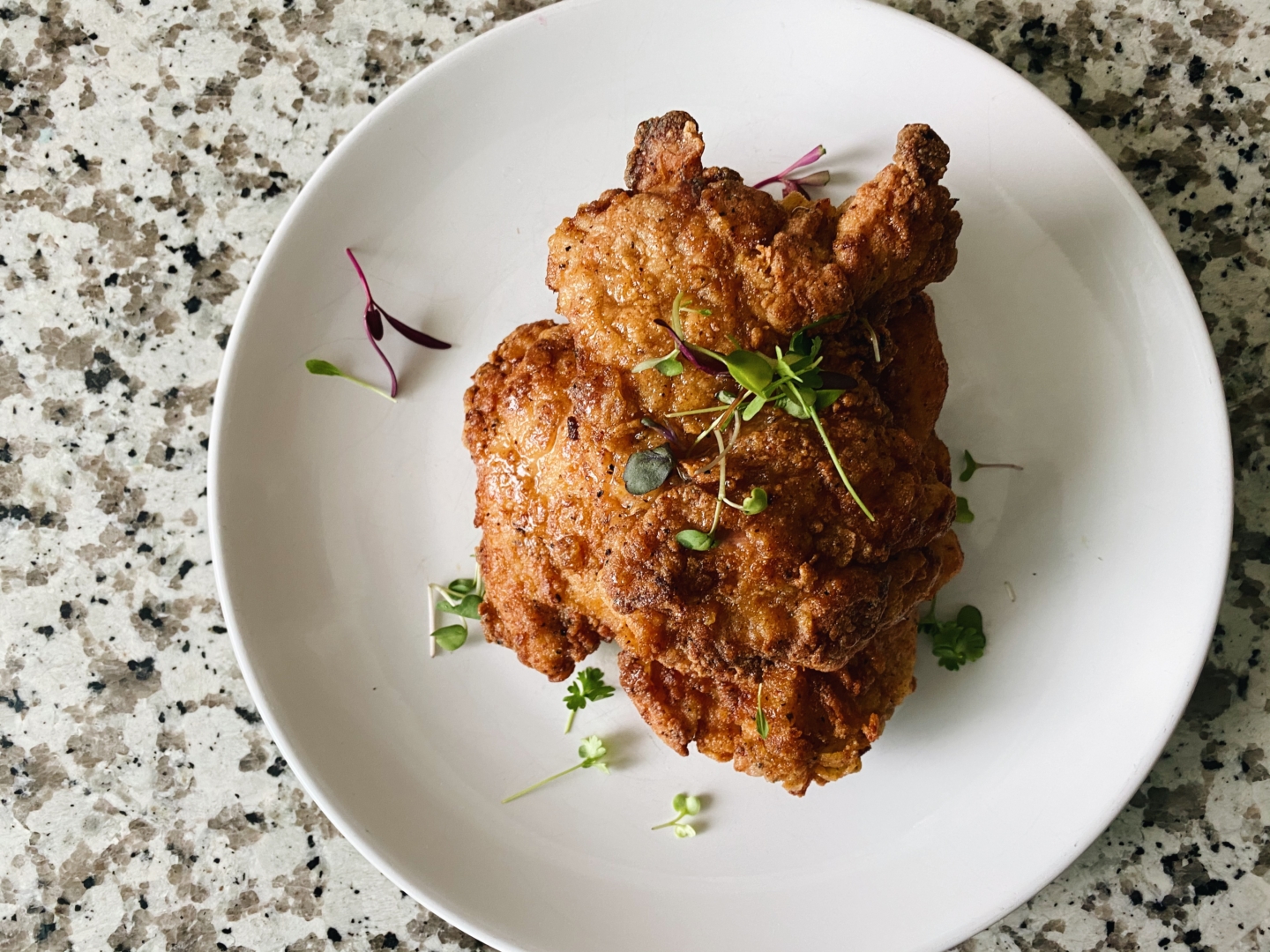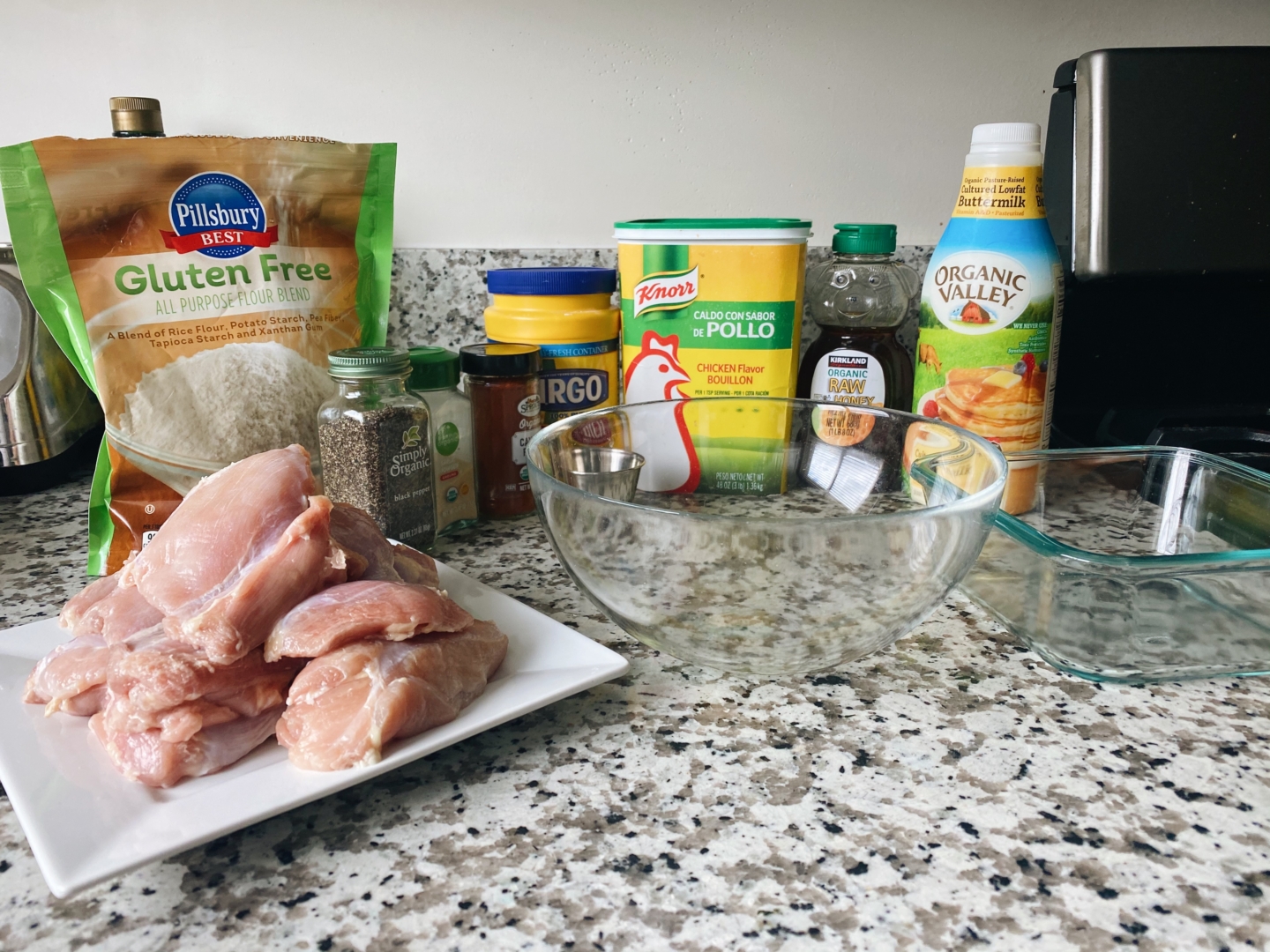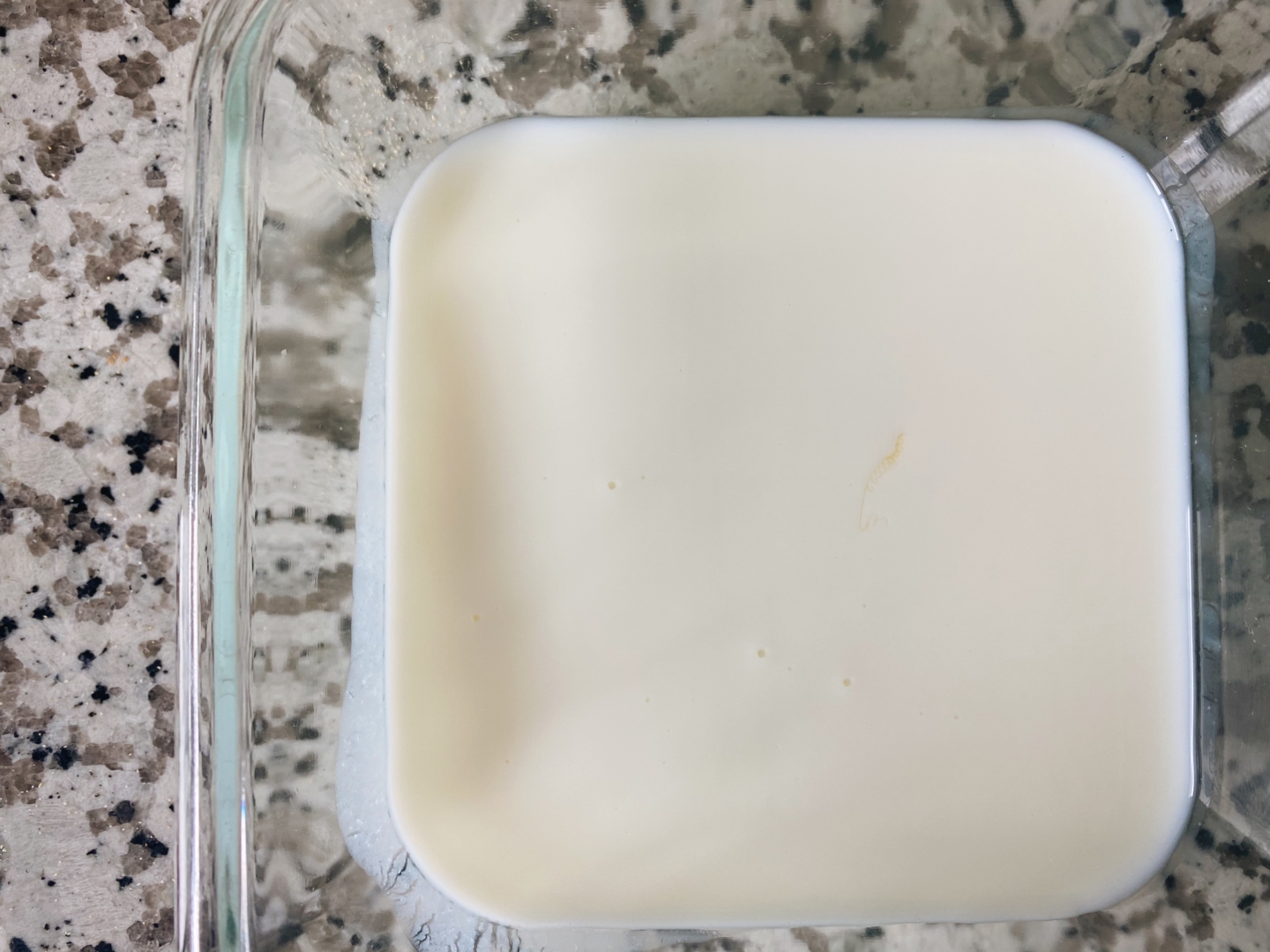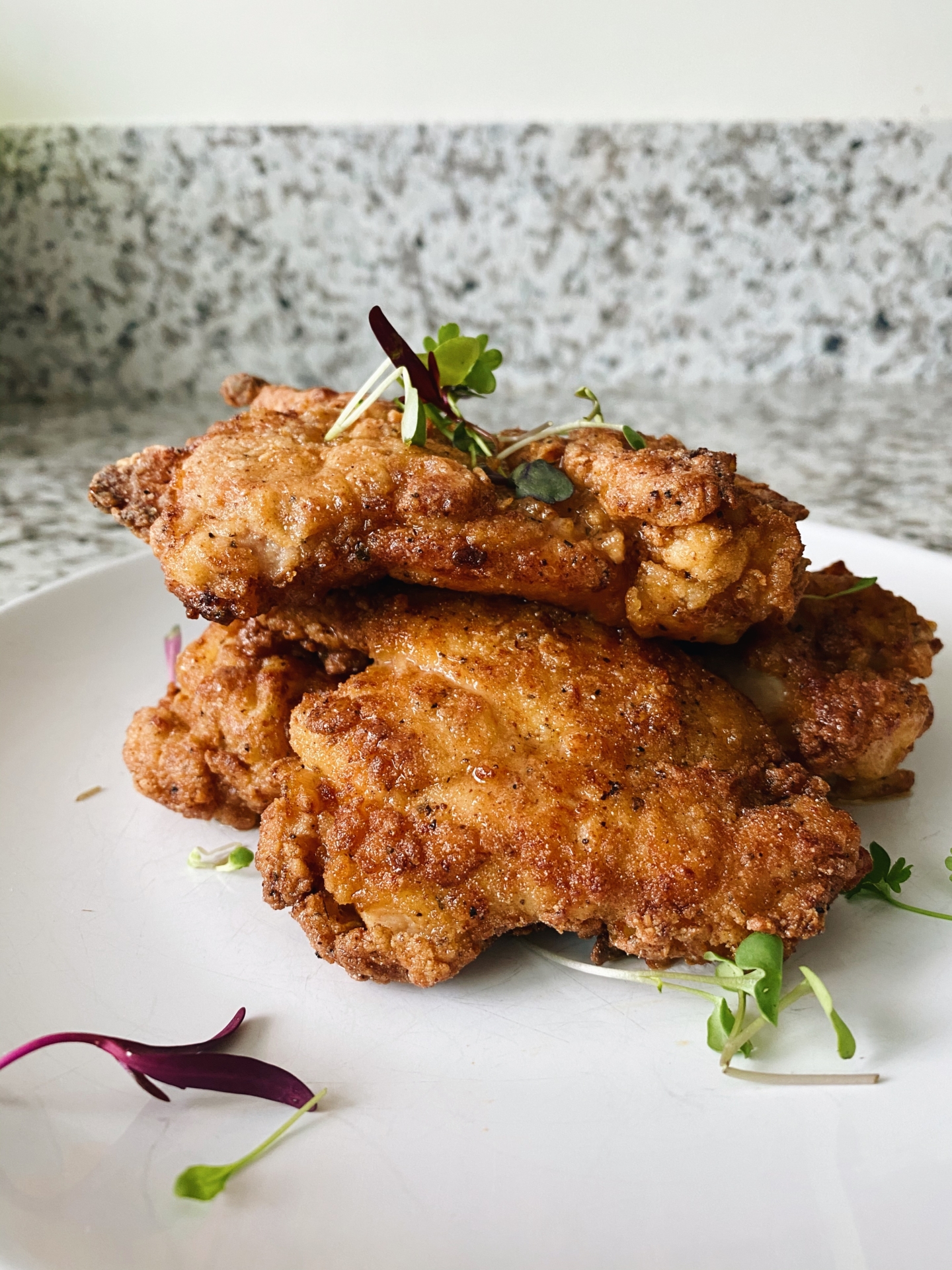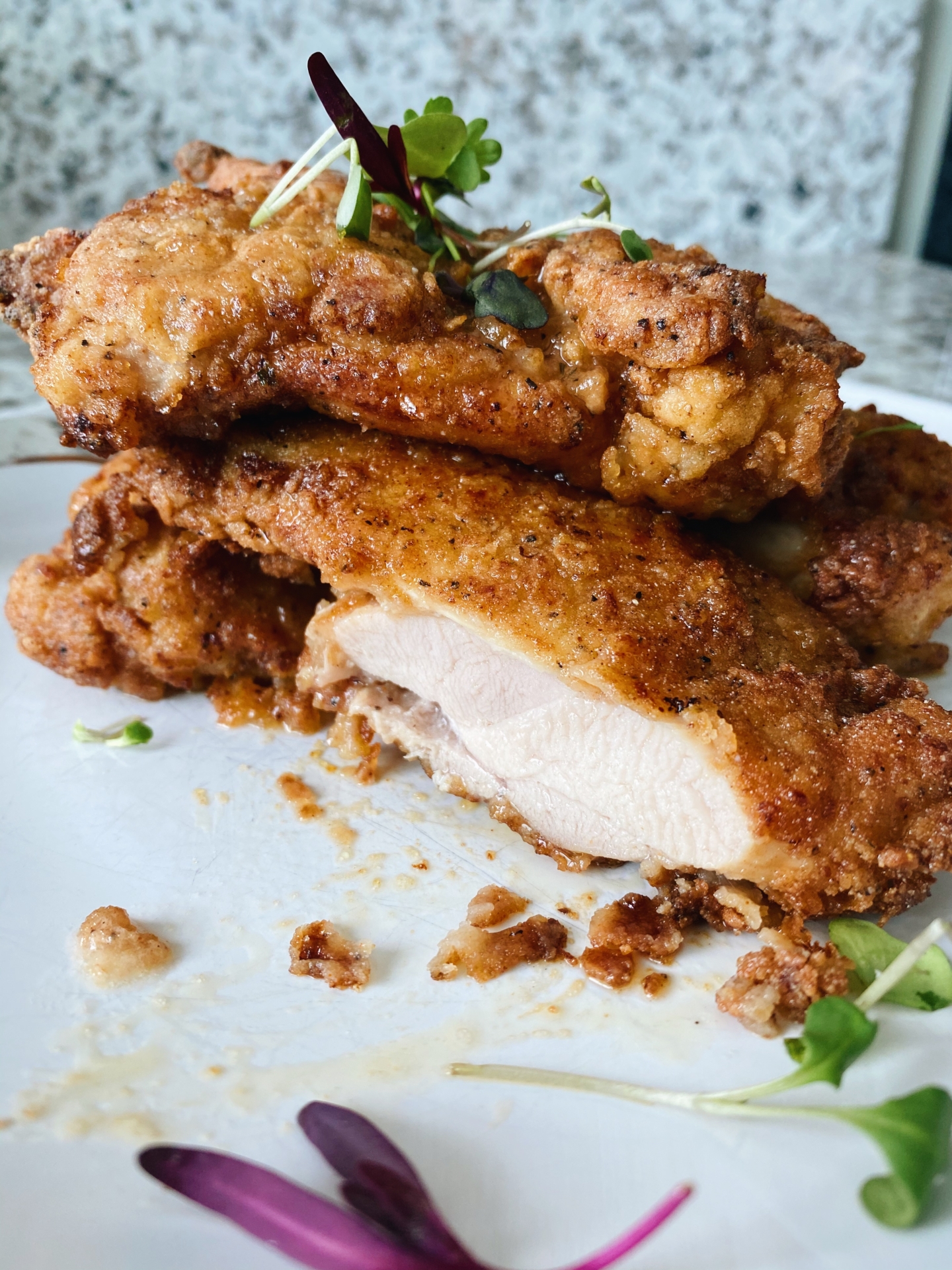 Ingredients
1 pack of boneless skinless chicken thighs
2 cups buttermilk
3 cups all-purpose flour
1 tbsp cornstarch
1 tbsp salt
1 tsp cayenne pepper
2 tsp garlic powder
1 tsp black pepper
2 tbsp chicken bouillon
1/4 cup Honey
Ingredients
In a large bowl combine buttermilk and honey together. Add chicken thighs, cover and marinate for 1 – 2 hours or up overnight
In a large bowl combine flour, cornstarch, chicken bouillon, peppers, salt, and garlic powder together.
Heat 1-inch olive oil in a large deep skillet over medium-high heat until deep-fry thermometer registers between 350°F and 375°F.
Move one chicken at a time from marinade and dip the chicken into the flour mixture until both sides are completely coated. Shake off any excessive flour mix.
Fry chicken a few pieces at a time so the oil doesn't cool down. Turn chicken on both sides to brown evenly and remove when golden and cooked through.
Transfer the chicken to a rack and or paper towel.
Coat the chicken with honey and bake at 350°F for 10 minutes.
Arrange the chicken on a serving platter and Enjoy. Don't forget to hashtag, #dinnerwithtayo.